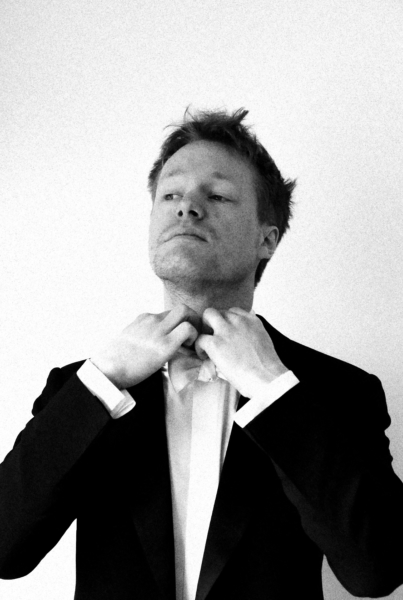 French conductor Pierre Mosnier is regularly invited to conduct orchestras in France and in Europe. His most recent engagements include collaborations with Orchestre de l'Opéra de Tours, Orchestre de Mulhouse, or the Romanian Chamber Orchestra. He is regularly invited as assistant conductor to Cristian Măcelaru with Orchestre National de France.
Very fond of the lyric repertoire, he was invited in 2019 by Philippe Jordan to assist on the productions of Berlioz's Les Troyens at Opéra de Paris. Keen to promote the new generation of opera singers, he regularly invites young artists to perform with him. He is regularly invited to accompany young musicians for their final concert at CMSMDP.
He holds the position of music director and chief conductor of the Ensemble//Parallèle as well as music director of the festival Les Journée Musicales d'été au Croisic (France).Those positions have allowed him to explore a vaste spectrum of repertoire including symphonic and lyric works. His recordings include works by Saint-Saëns, Beethoven, Schubert, but also lesser known works by Hübler or Albrechtsberger. His next recording will be of Mozart Symphonie Concertante with Ensemble//Parallèle for the label Nomad Music.
Pierre Mosnier regularly performs with orchestras in France and in Europe for family concerts as well as subscription concerts or recordings. Such collaborations include orchestras such as Orchestre de l'Opéra de Tours, Orchestre Colonne, Orchestre de Mulhouse, Orchestre du Festival les Courants d'Air (Belgium), Les Ondes Plurielles, the Moravska Philharmony (Czech Republic).
Trained by renowned conductor such as Paavo Jarvi, his father Neeme, or Tugan Sokhiev, Pierre was mentored by Georges Prêtre with whom he developped a strong musical relationship. He has participated actively in prestigious masterclasses such as the Jarvi Academy for Young Conductors or The Academy for young conductors with Orchestre National du Capitole de Toulouse with Tugan Sokhiev.
Born in France and raised both in Paris and Linlithgow (Scotland) Pierre studied the piano and the trombone. He majored in conducting from Ecole Normale de Musique de Paris, and holds multiple diplomas from Conservatoire de Paris.